2019 NEW ENERGY PIONEERS UNVEILED AT BNEF SUMMIT IN NEW YORK CITY!
Game-changing companies from around the world recognized for their leadership in transformative technologies  
New York, March 25, 2019 – Ten innovative companies that are revolutionizing the energy, transport, and industrial sectors have been named as the 2019 New Energy Pioneers by BloombergNEF (BNEF). The winners are pursuing new opportunities in areas as diverse as EV charging, industrial digitalization, and innovative manufacturing processes. The 2019 New Energy Pioneers have been unveiled today at the BNEF Summit in New York.
BNEF New Energy Pioneers recognize ground-breaking companies that are fueling the transition to a lower carbon economy and highlighting new ideas for business models, technologies, market structures and commercial opportunities.
An independent panel of industry experts, assisted by BNEF's analysts and technology specialists, selected the ten winners from more than 185 applicants from 35 countries around the world. Each candidate was assessed against three criteria: the potential to scale the opportunity and have global impact; the level of innovation of the technology or business model and the novelty it brings to the market; and momentum by showcasing substantive progress in the form of strong commercial partnerships, the distribution channels in place and sales growth.
The 2019 New Energy Pioneers are:
CarbonCure (Canada) provides a method of utilizing captured CO2 in concrete manufacturing to both improve its structural properties and reduce its environmental impact.
Desktop Metal (U.S.) manufactures one of the fastest 3D printing systems on the market for the mass production of high-resolution metal parts.
METRON (France) provides an AI-driven IIoT (industrial internet of things) platform that optimizes energy usage for industrial facilities.
Navya (France) is the leading developer of low-speed autonomous shuttles.
Nozomi Networks (U.S.) offers cybersecurity for industrial control systems using machine-learning techniques to detect anomalies.
Sunfolding (U.S.) has invented new motor-free solar trackers resulting in faster installation of solar panels at lower costs.
Ubitricity (U.K.) has developed a unique smart electricity cable for EV charging which leads to a much smaller and more affordable charging spot.
Uptake (U.S.) has developed an AI platform to predict and prevent the breakdown of industrial and energy assets to increase productivity, reliability, efficiency and safety.
Zero Mass Water (U.S.) sells a Hydropanel which uses sunlight to generate water out of thin air.
Zunum Aero (U.S.) is an aerospace company which develops hybrid and fully electric airplanes aimed at short and medium haul flights.
Michael Wilshire, selection committee chair and head of strategy at BloombergNEF, said: "This year we received a record number of high quality candidates for the New Energy Pioneers program, from across the world. We continue to see strong innovation in the use of digital technologies such as AI, IoT and cybersecurity that will make our electricity system and industrial processes more efficient, flexible, clean and secure.
"Three of this year's winners focus on electrifying transport – with novel forms of charging infrastructure for cars, autonomous shuttles for local transport and electrified planes for short to medium haul routes. Others are finding new ways to produce materials more sustainably and efficiently, ranging from concrete, to water to metal components. And we continue to see innovation to drive down the costs of solar power still further, underpinning continued rapid growth of that sector. We are heartened by the initiative, creativity and determination of these Pioneers and by the impact they can have on industries and society. We are, as always, very grateful to our external judges on the selection committee who had the challenge of choosing ten winners from a strong pool of entrants."
Quotes from New Energy Pioneers:
METRON
"Most manufacturing companies lack a dedicated team that would constantly analyze the flow of energy in their facilities and produce actionable insights to tackle the ever-increasing energy burden. This is where our expertise lies – in the constant improvement of the energy usage in industries." – Vincent Sciandra, CEO, METRON
CarbonCure
"CarbonCure is leading a global movement to reduce the carbon footprint of the built environment, using recycled CO2 to improve the manufacturing process of the world's most abundant man-made material: concrete." – Rob Niven, CEO, CarbonCure
Desktop Metal
"Desktop Metal is accelerating the transformation of manufacturing with end-to-end metal 3D printing solutions. Founded in 2015 by leaders in advanced manufacturing, metallurgy, and robotics, the company is addressing the unmet challenges of speed, cost, and quality to make metal 3D printing an essential tool for engineers and manufacturers around the world." – Jonah Myerberg, CTO, Desktop Metal 
Navya
"NAVYA, a pioneer and specialist in the autonomous vehicle market, assists cities and private sites around the world by offering leading-edge, zero emissions, all electric first and last mile transportation solutions that aim to return fluidity to congested urban centers. NAVYA has a strong global presence and is actively expanding its footprint in North America with a manufacturing plant in Metro Detroit building its AUTONOM Shuttle, a fully autonomous, electric vehicle." – Jérôme Rigaud, COO, NAVYA Group
Nozomi Networks
"Nozomi Networks is the leader of industrial cyber security. We deliver proven solution for real-time visibility to manage cyber risk and improve resilience for industrial operations. With one solution, customers gain advanced cyber security, improved operational reliability and easy IT/OT integration." – Edgard Capdevielle, CEO, Nozomi Networks
Sunfolding
"Sunfolding is honored to be named as one of the New Energy Pioneers. Our robust tracker technology unlocks value at every stage of a PV power plant's lifecycle and can successfully scale with solar's massive global growth. Being selected by the BNEF experts and the selection committee affirms our teams' efforts at priming our innovative technology for maximum impact." – Jurgen Krehnke, CEO, Sunfolding
 Ubitricity
"Millions of city dwellers have to park their cars on the road every night, especially in larger cities. But today there is no charging infrastructure. We are now bringing charging stations right outside people's front door – into the lamp post. The enabling ubitricity technology is already in use in Berlin and London and will be piloted in NYC starting in summer 2019. Subject to the respective regulatory framework, drivers are even able to freely choose their mobile electricity supplier for their car, facilitating state-of-the-art consumer choice and convenience to the electric mobility market. This way EVs can be integrated into the energy market more flexibly while service innovation is driven by consumer choice. Just as smart phones are bundled with digital services today EVs will be bundled with electricity services in future. The energy data required can be generated by the EV's electronics serving as mobile smart meter." – Knut Hechtfischer, Co-founder, Ubitricity
Uptake
"We put powerful artificial intelligence and machine learning technologies into the hands of front-line workers and industrial companies that aren't AI experts. Our technology is field-ready, designed for the real-world and delivers outcomes where precision matters. Our investment in building a foundation of data integrity enables us to empower industrial operators to more effectively harness insights providing immediate value to data-rich, yet insight-poor industries." – Brad Keywell, CEO, Uptake
 Zero Mass Water
"I founded Zero Mass Water in 2014 to change the human relationship to water and eliminate water stress. Today we see our vision come to life as our technology, SOURCE Hydropanels, quite literally perfects drinking water for schools, homes, hospitals, and communities all over the world." – Cody Friesen, CEO, Zero Mass Water
Zunum Aero
"We're honored to be recognized as a New Energy Pioneer. We have a rare, world-changing opportunity to bring to life a new era for regional travel that combines community connectivity and quiet, green flight. With our aircraft in the air, people can expect door-to-door times two to four times faster than they are today, while carriers will see operating costs and emissions slashed by up to 80%. We are well on our way to bringing aviation emissions on short-haul flights to zero by 2040." – Ashish Kumar, CEO, Zunum Aero
 The New Energy Pioneers program partner is Cycle Capital Management.
For more information on the New Energy Pioneers program, visit: https://about.bnef.com/new-energy-pioneers/
For more information about the BNEF Summit in New York, visit: https://about.bnef.com/summit/newyork/
Flashback on the great event :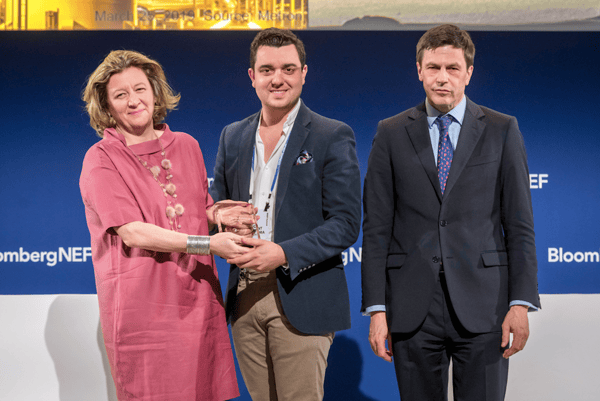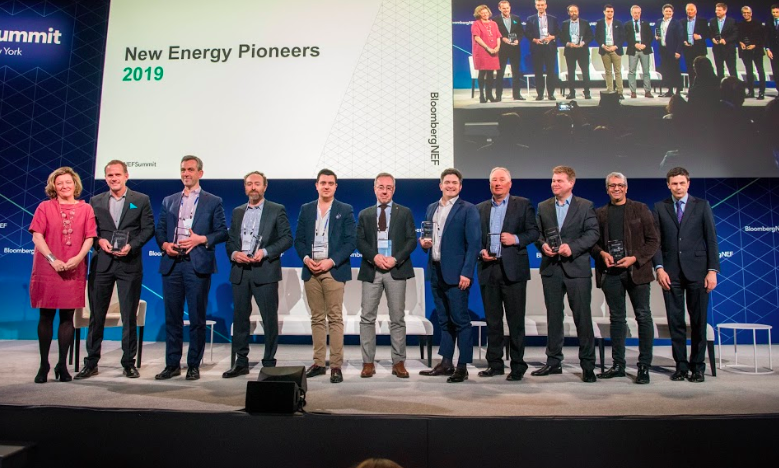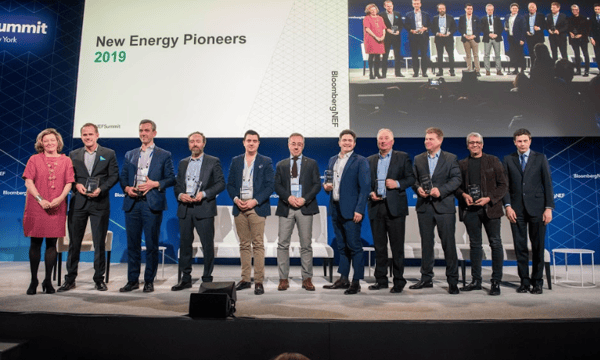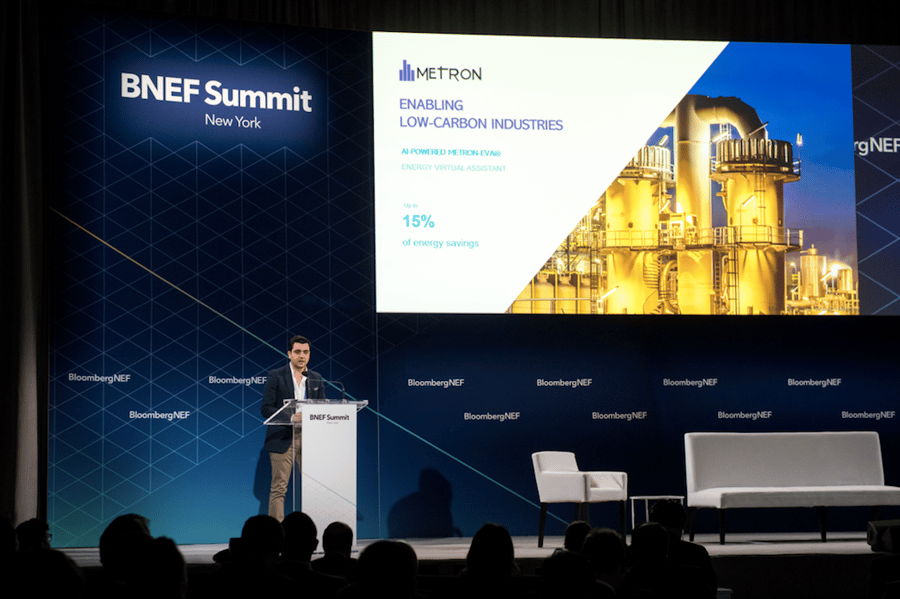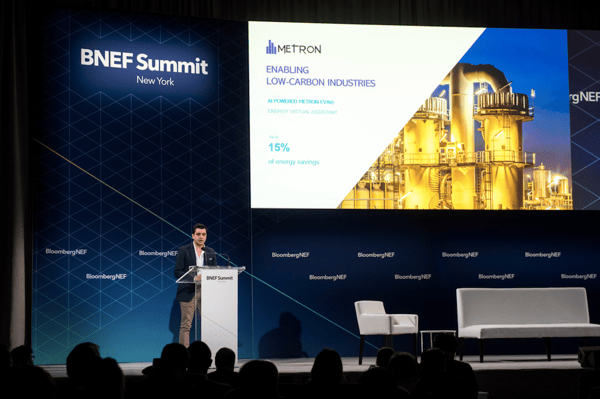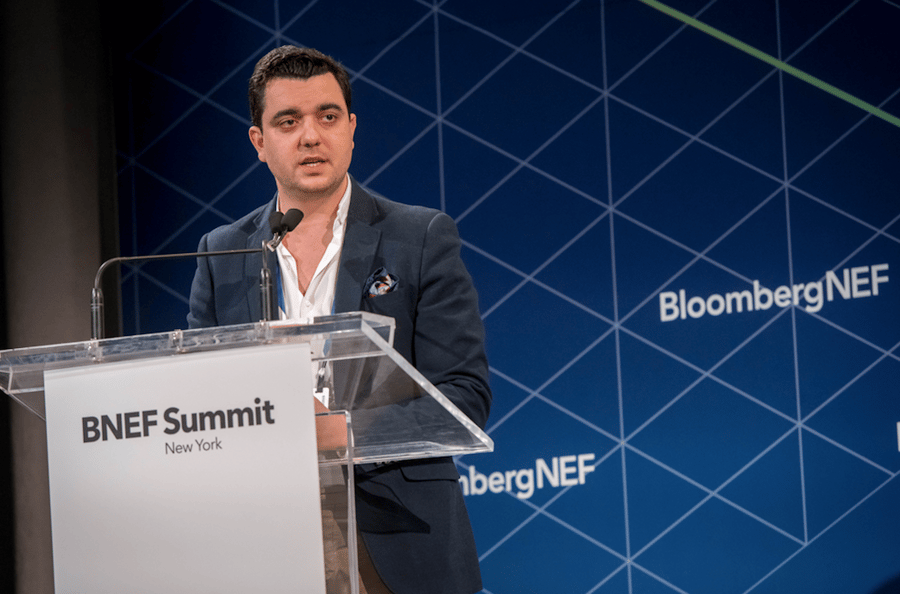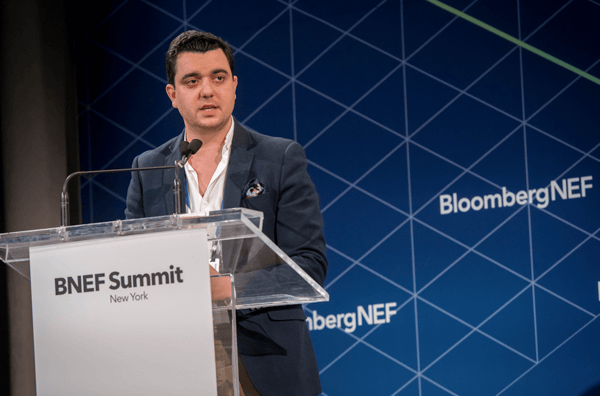 About BloombergNEF
BloombergNEF (BNEF) is a leading provider of primary research on clean energy, advanced transport, digital industry, innovative materials, and commodities. With a team of experts spread across six continents, BNEF leverages the world's most sophisticated data sets to create clear perspectives and in-depth forecasts that frame the financial, economic and policy implications of industry-transforming trends and technologies. Available online, on mobile and on the Terminal, BNEF is powered by Bloomberg's global network of 19,000 employees in 176 locations, reporting 5,000 news stories a day. Visit https://about.bnef.com/ or request more information.