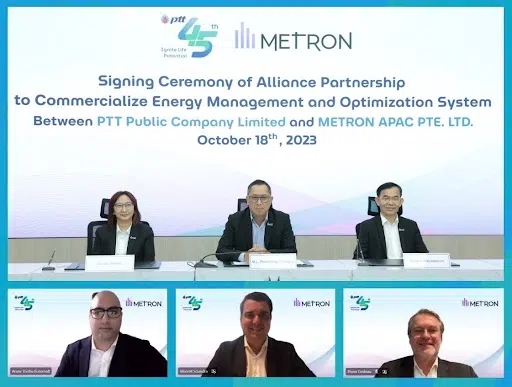 Bangkok, 18th October 2023 – METRON, a French company specializing in digital energy efficiency solutions to decarbonize industry, and PTT Public Company Limited (PTT), a Thai state-owned SET listed oil and gas company, have announced today a new strategic long-term alliance aiming to cut energy costs and significantly reduce carbon impact in the Thai industry.
The integration of METRON Energy Management and Optimization solution into PTT's industrial energy services allows PTT and its customers to benefit from advanced digital technologies and innovation to achieve energy efficiency and sustainability goals, in line with Thailand's ambitious decarbonization objectives. As an early mover on carbon pricing in the region, Thailand intends to reduce greenhouse gas emissions by 20-25 percent by 2030 under the Paris Agreement.
M.L. Peekthong Thongyai, Senior Executive Vice President, Gas Business Unit, PTT Public Company Limited (PTT) stated : "We are very proud of this new alliance with METRON that allows us to utilize their advanced energy intelligence platform and apply their technology to our wide array of businesses. This not only enhances our client's competitiveness but also reflects our commitment to drive Thailand towards low-carbon society and sustainable growth."
METRON's energy management and optimization system allows industrial players to manage and reduce their energy consumption by providing real-time data insights on industrial assets, along with identifying optimization opportunities. With an extensive list of successful implementations in major industrial leaders on all continents including Asian Pacific key markets - Japan, Singapore, Indonesia, Malaysia, Thailand, South Korea, New Zealand… METRON's technology is set to provide significant contributions to PTT's decarbonization roadmap.
Vincent Sciandra, CEO of METRON, expressed his enthusiasm about the partnership, saying : "We are incredibly thrilled to join forces with PTT. This partnership provides us with a unique opportunity to demonstrate the effectiveness of our Energy Management and Optimization Solution (EMOS) on a large scale in South East Asia. Our ambition is to provide PTT with the best digital solution to achieve significant energy efficiency improvements and reductions in CO2 emissions across their industrial customers portfolio."
This strategic alliance between METRON and PTT underpins their shared commitment to promoting energy efficiency and reducing carbon emissions in the manufacturing and tertiary industry. PTT and METRON have already begun their decarbonization journey by working together with customers in F&B sector and Iron and Steel sector for a structured approach to energy management and sustainability. This onsets the partnership to set a new standard for sustainable development in Thailand and beyond.
About PTT Public Company Limited
PTT Public Company Limited, a major Thai state-owned company, has operated fully integrated energy and petrochemical business as the nation's energy company which missions are to ensure national energy security and to equally take care of all stakeholders under transparent management with good governance. PTT has business operations throughout the business value chain covering from upstream to downstream as well as accelerating new business expansion of future energy and beyond.
Discover More of Our Latest News