Did you know industrials can cut their energy bills by 4-15% using only data without impacting the quality and quantity of their output? Non-intuitive industrial optimization is the answer, digitization and artificial intelligence are the keys. Welcome to METRON, where energy experts and data scientists collaborate to create new energy efficiency strategies. METRON-Factory® is a platform solution that allows to monitor and analyze your data in real-time, detect non-intuitive variables affecting energy consumption, and reduce your energy use and environmental impact accordingly. Over 100 clients worldwide can already confirm the reliability of our solution.
PHASE 1: CONNECT YOUR FACTORY
Following a feasibility study, the solution starts with our energy and data engineers conducting an energy mapping and creating a digital model, or a "digital twin" of the factory. In collaboration with the plant's staff we connect SCADAs, PLCs, energy meters, and other data sources (through our METRON Lab server or your own data-lake) to our secured storage unit. Working together with the client's IT teams, we make sure that these data flows are cyber-secured to always respect the client's data privacy. The flexibility of our approach ensures that our solution can fit in any industrial site with regards to the client's stage of digitalization and IT preferences.
Once the data is connected and treated, it can be visualized in real-time via the customizable dashboards of our platform. For plant and energy managers, having a fully digitized factory helps monitor inputs consumption and output very precisely. They get automatic reports and internal benchmarks giving them a holistic centralized control of the factory. For machine operators, they get a live-feed of their machine on a dashboard tailored specifically to their needs to establish key performance indicators and initial improvements. Finally, with the aggregated data and the full industrial context, METRON-Factory®, the Energy Virtual Assistant, can begin its analytical work.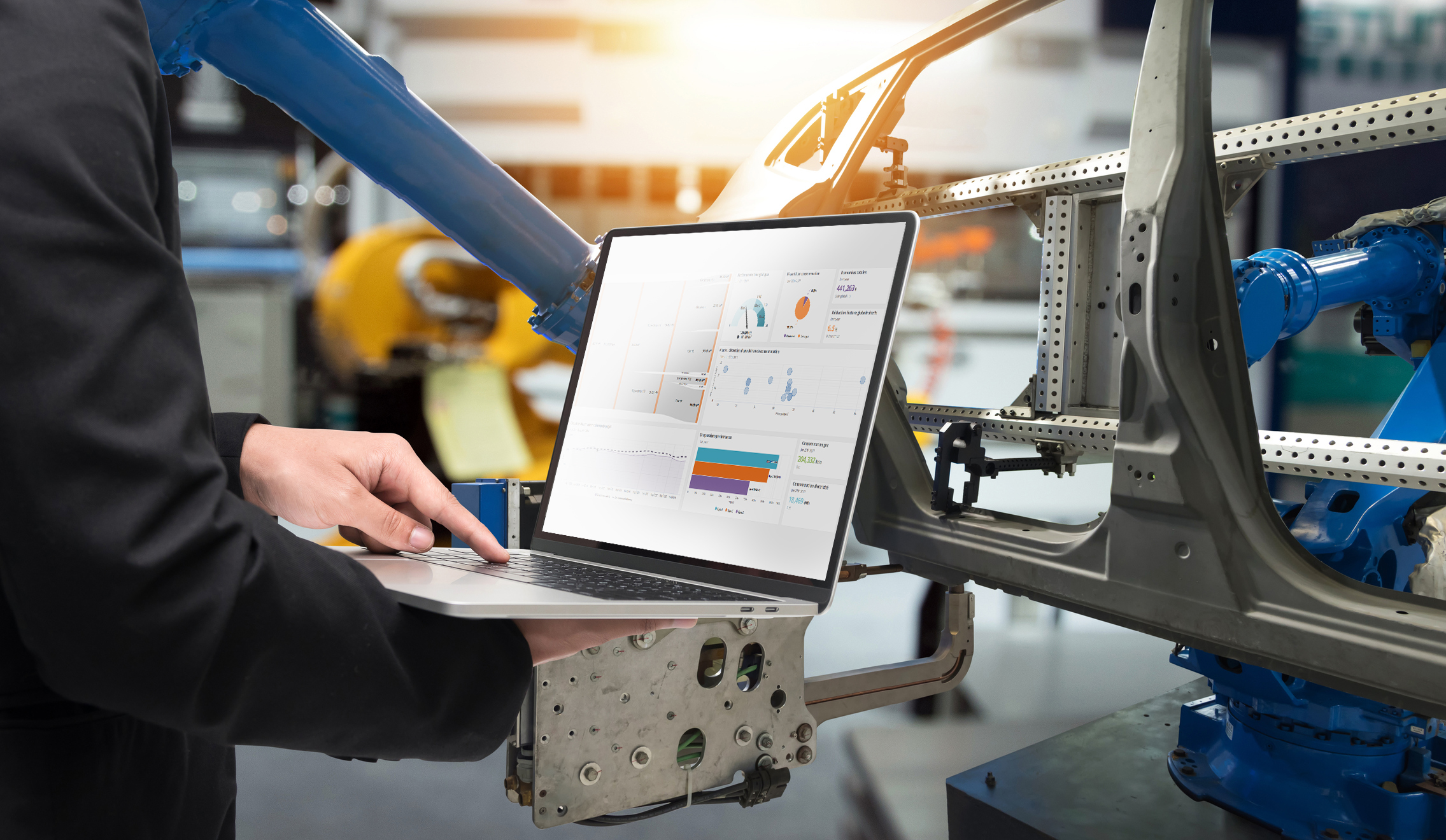 "METRON-Factory® is a platform solution, which is ergonomic and easy for every-day use of our operational teams" - Jean-Baptiste Debure, Maintenance Manager at SGD Pharma
PHASE 2: DETECT POTENTIAL OPTIMIZATIONS
Before the age of Big Data, all efficiency improvements in a factory were made by industrial and energy engineers using conventional formulas to optimize input-to-output. With large volumes of real-time data and artificial intelligence, we are now able to go beyond and find non-intuitive optimizations. This is how it works.
Using the digital twin, the METRON team can start building correlation matrices. These graphs help identify and rank the variables that influence energy consumption. Our operations team also discusses with the client to pinpoint which variables are the easiest to control and optimize. Once relevant variables are identified, METRON-Factory® creates scenarios to predict the energy consumption of machines and the factory as a whole. These scenarios are then used as references to simulate optimized models and detect anomalies in energy consumption.
"On top of collecting and harmonising our data, METRON's solution and its AI detect new energy optimisations on a continuous basis." - Nicolas Dotal, Energy Manager at DS Smith.
PHASE 3: REDUCE YOUR CONSUMPTION, COSTS, AND EMISSIONS.
Finally, using METRON-Factory®'s optimized models and reports, it is up to the factory's employees to implement optimization suggestions. These actions require no additional time from operators, it makes all the information they need available in real-time to augment their decision-making capacity.
The software is a real assistant manager that empowers humans to make decisions at all levels:
For

energy managers

, it is a tool enabling saving and performance follow-up. The holistic view of their dashboard, along with all automatic reporting and suggestions, saves them a lot of time in their daily tasks.
Machine operators get real-time recommendations for the energy performance of their machines. On average, optimizations can lead to 4-15% reduction in energy consumption depending on the industry.
For factory directors and corporate executives, such reductions translate to financial gains increasing profitability for the same production, and reduced carbon emissions helping with environmental compliance of the company.
Beyond savings, the factory staff is trained and accompanied through the entire process, thereby installing a solid energy efficiency culture in the company.
"With METRON, we were able to improve our reactivity loops, with daily performance monitoring on all our production lines. The platform offers several AI modules which are potential optimization levers for our site." - Sebastien Boissier, SN Manufacturing Digitalization Director at Danone.
Within 6-12 weeks, METRON-Factory® is installed and connected, and the factory's staff is trained to use it.  In the first 12 months, our customers observe a payback on the solution through savings and 100% have renewed their yearly subscription. For example, thanks to METRON-Factory®, DANONE has reportedly cut its steam and electricity consumption by 10%, generating over 150 000 EUR in savings per year. Our other clients are across industries and include for example paper, chemicals, glass, steel or plastics. The reliability of our solution, the constant follow-up and support from our operations team, combined with quick returns on investment, contribute to making METRON-Factory® an ideal tool for an efficient future-proof energy and digital transition.