Airflux, a French company founded in 1983 in Lille, offers its expertise and services linked to the production of industrial fluids (compressed air, chilled water, nitrogen). The company's know-how lies in the design of compressed air plants as well as compressed air energy optimization and maintenance throughout France thanks to its 80 technicians.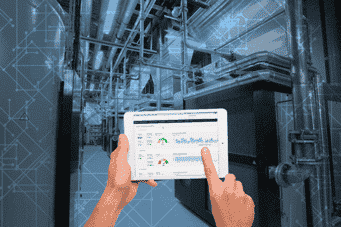 It all started with METRON, which developed a new way of optimizing the sequencing of compressors through data analysis and statistical models for Airflux. This first success, combining the expertise of both companies, convinced them to seal a partnership that led to the development of a digital energy efficiency product for compressors. Today, Airflux offers its customers a new digital service where METRON provides the artificial intelligence platform dedicated to this application.
Airflux involved METRON in the project to connect to their compressed air systems via a digital platform for energy efficiency, METRON's EMOS. METRON's experience in big data, artificial intelligence and energy, combined with Airflux's knowledge of the processes and equipment, has helped to optimize the sequencing of the compressor system in real time and decrease electricity consumption by up to 3%.
Thanks to this partnership, the project completes a comprehensive digital solution for compressed air, AF Connect, the purpose of which is to manage and reduce the running costs of the existing power stations. Traditionally, Airflux offered its customers a service based on maintaining equipment and replacing spare parts all the while following manufacturer recommendations.
Through this collaboration, Airflux realised the importance of using the data collected through its equipment and statistical models in order to offer its industrial customers better control and optimized operational performance.
As a result, Airflux chose METRON as its partner in order to quickly develop a service offer that included preventive maintenance and energy efficiency optimization thanks to data management and analysis.
Airflux used METRON's ability to manage big data and its data science approach to position itself as a service provider. Thanks to AF Connect, it is possible to understand and monitor influences between the system's key parameters, such as air flow, pressure drops, oil contamination, temperature and use cycles. All these factors help optimize energy consumption and carry out preventive maintenance.
Airflux and METRON have developed a remote control tool for compressors to optimize their functioning in real time. METRON now provides Airflux's customers with dashboards that display all the measured parameters.
METRON's EMOS covers 3 service levels:
Monitoring: visualization of all data in real-time.
Analysis: customization of key performance indicators and alarms setting.
Optimization: benchmarking and optimization of equipment.
Today, the solution AF Connect is used in France at several industrial sites belonging to Airflux customers, with METRON providing energy support and helping set up up the data connection architecture, depending on the customer's requirements.
Industrial businesses require equipment that is more and more connected in order to meet the plant's needs relating to overall flexibility and to make equipment even more energy-efficient.
In the future, industrial plants will be fully connected and controlled through a centralised system. As such, METRON is a key partner when it comes to supporting manufacturers on the path towards energy intelligence.
Want to learn more about METRON's Energy Management & Optimization System (EMOS)?
Discover more articles on our Blog