The iron and steel industry is one of the pillars of the world economy, as steel is a very important material in sectors including construction, the automotive industry, aerospace, energy, and more.
However, the steel industry is known to be very energy intensive. For this reason, it is imperative to implement measures to improve energy efficiency. In this article, we give you some tips on how to save energy in the steel industry, based on the real experience of ArcelorMittal in France.
01
Steel: Energy-Intensive Sites
According to a study by the International Energy Agency (IEA), the steel industry alone accounted for 7% of global energy consumption in 2019. Steel production is also responsible for 2.6 gigatons of CO2 emissions, or about 7% of man-made greenhouse gas emissions.
Steelmaking facilities require a significant amount of energy to heat furnaces to high temperatures to smelt iron ore. Steel plants are therefore considered among the largest consumers of energy in the world.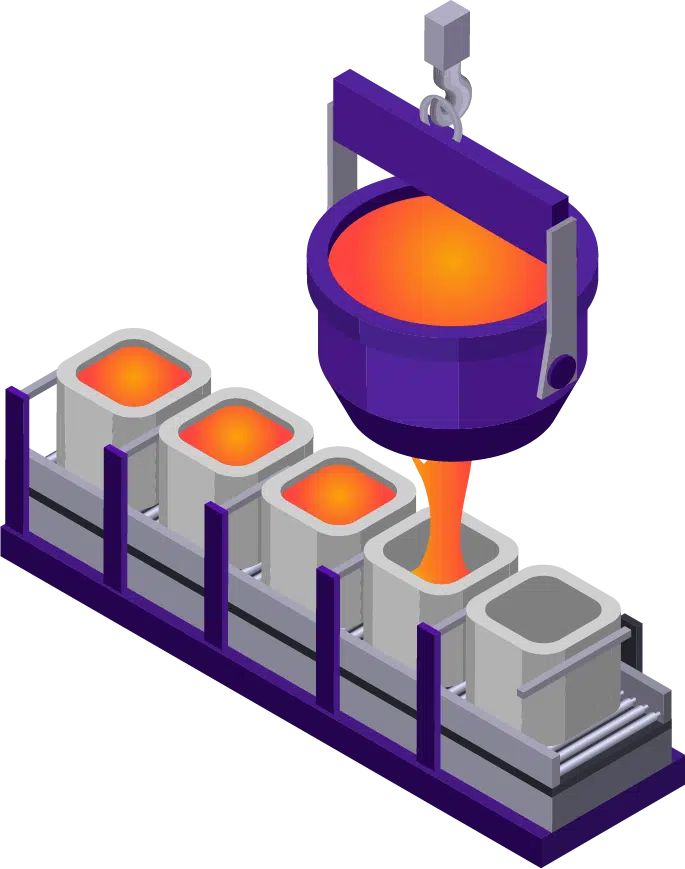 02
More Stringent Regulations
With the increase in energy prices and the growing awareness of the environmental impacts of the steel industry, governments have put in place environmental regulations and public policies aimed at decarbonizing the industry.
Energy efficiency is an increasingly important issue in the current context of price volatility and energy consumption control.
03
Predictions for the Future
With increasing global demand for manufactured products and growing pressure to reduce greenhouse gas emissions, the steel industry faces significant challenges in meeting these demands.
Forecasts suggest that demand for steel will continue to grow, particularly in developing economies. However, to meet greenhouse gas emission reduction targets, steel industries will need to continue to innovate and implement solutions to improve their energy efficiency and reduce their carbon footprint.


04
The Keys to Saving Energy in the Steel Industry
Once the facts are in, what can be done to move towards greater energy efficiency? Here are three ways to save energy.
Key 1: Digitize Your Energy Consumption and Control It in Real Time
Digitizing your energy consumption is a very efficient way to visualize your energy data in real time. Thanks to software, such as Energy Management and Optimisation Solutions (EMOS), you can follow your energy consumption in detail and identify the most energy-intensive sources. This approach also allows you to detect abnormal behavior and report any anomalies. It is also a question of having your site audited to list the SEUs (Significant Energy Users), to check that you have the necessary data on these perimeters, and to identify the most important levers by taking into account the various constraints of your site.
Key 2: Set up an Action Plan, a Strategy and Clear Objectives, and Include your Teams from the Beginning
Energy saving objectives must be aligned between all the different teams involved. Field operators should be informed of equipment upgrades that prevent energy waste. Maintenance teams must also be involved to ensure that machines are running optimally. Finally, managers should put in place tracking tools to measure results and monitor energy consumption.
Once you have set your objectives, aligned your teams, and carried out an audit, you will be able to correctly choose the priority actions and implement your action plan, starting with those that have the greatest impact.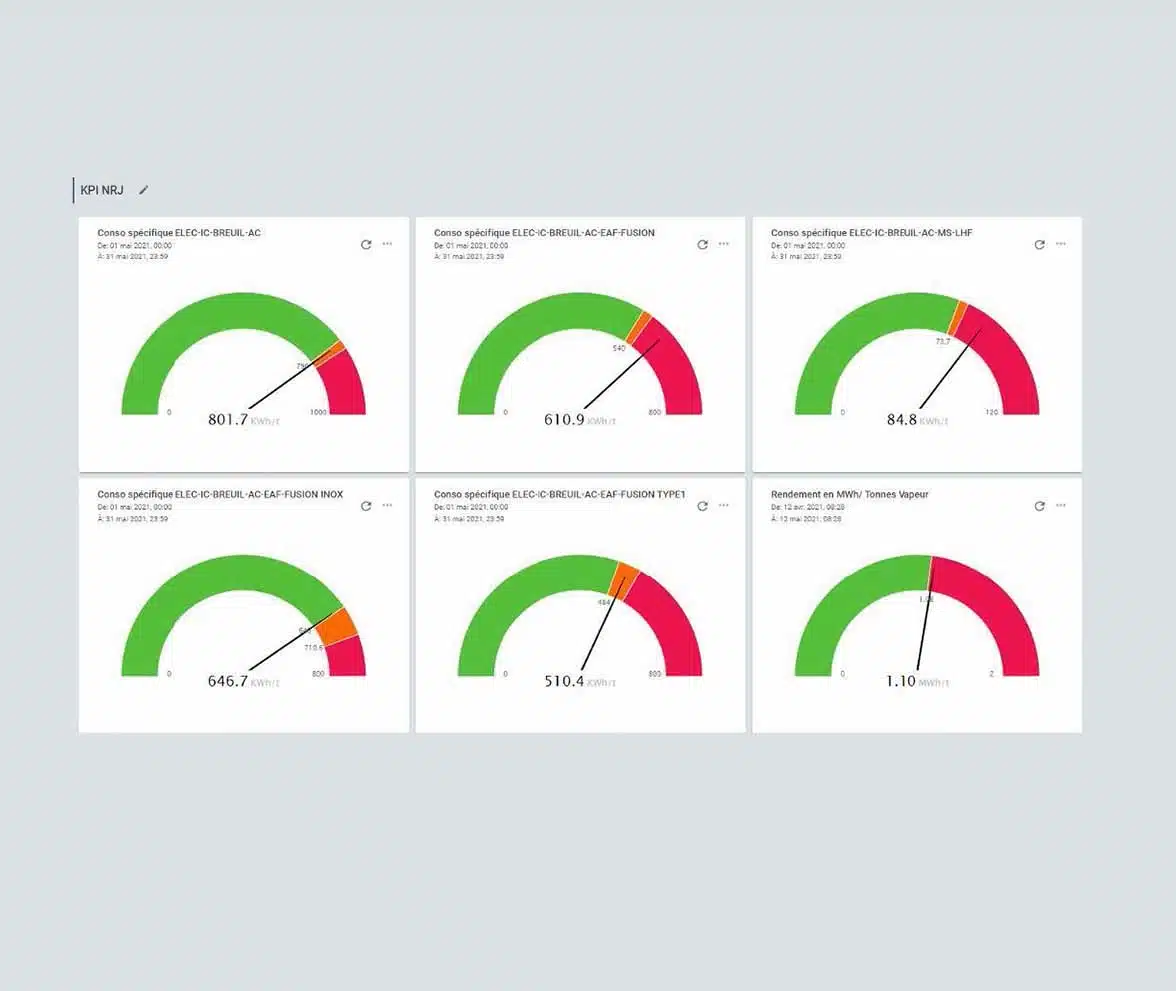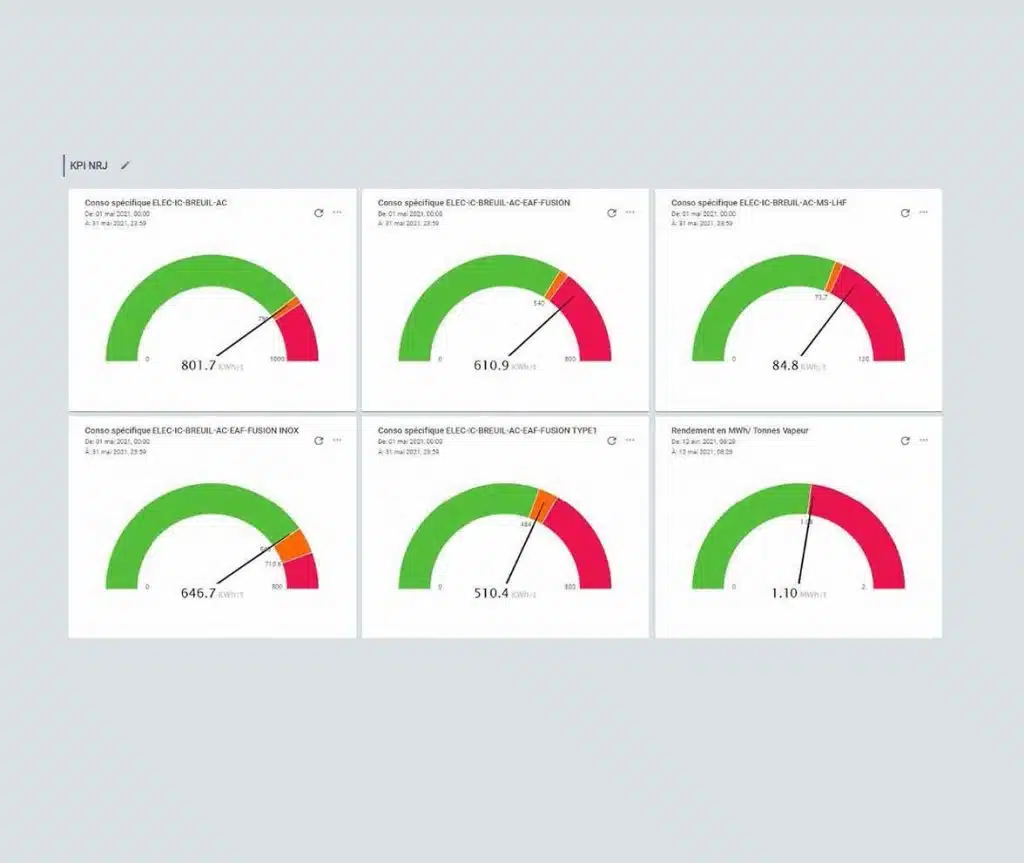 Key 3: Centralize All Your Data, Including External Factors That Influence Energy Consumption
It is important to gather in one place not only energy consumption but also process data (temperature, pressure, humidity, etc.), weather data, and production data (type of product, composition of scrap, tonnages, instructions, quantities of incoming/outgoing parts, pace of shifts). This will allow you to set up relevant energy performance indicators, to start analyzing consumption according to these factors, and to draw the first conclusions.
Key 4: Identify Your Energy Losses
As a first step, you will need to explore the data concerning the areas of interest identified during your audit to identify potential energy losses. A first simple analysis is to look at the operation of the machines during production line stoppages or during weekends. Indeed, if the production of parts is at zero but the consumption is not, then there are first action levers. An EMOS can also allow you to arbitrate between leaving machines on during downtime or turning them off despite the overconsumption of restarting because you can calculate the energy consumption in both scenarios very simply and convert it into Euros. An Excel spreadsheet will require a lot of time and handling to obtain these results. There are many potential energy losses on a site as large and complex as a steel plant such as a dust collection system that does not work at the right times, compressed air leaks, heat loss in pipes, machines running empty or misuse of equipment. These losses are often the easiest to treat because they do not require any additional investment but simply a reconfiguration of the setpoints.
Key 5: Model Your Consumption
It is possible to model and predict the energy consumption of your machines according to the influencing variables of your system. For example, for an oven, it will be necessary to take into account a lot of information. A simple linear regression on Excel would not be enough to analyze the influencing variables. For an effective consideration of these variables, it would be necessary, for example, to consider pressure, temperature, product tonnage, burner operating modes, etc.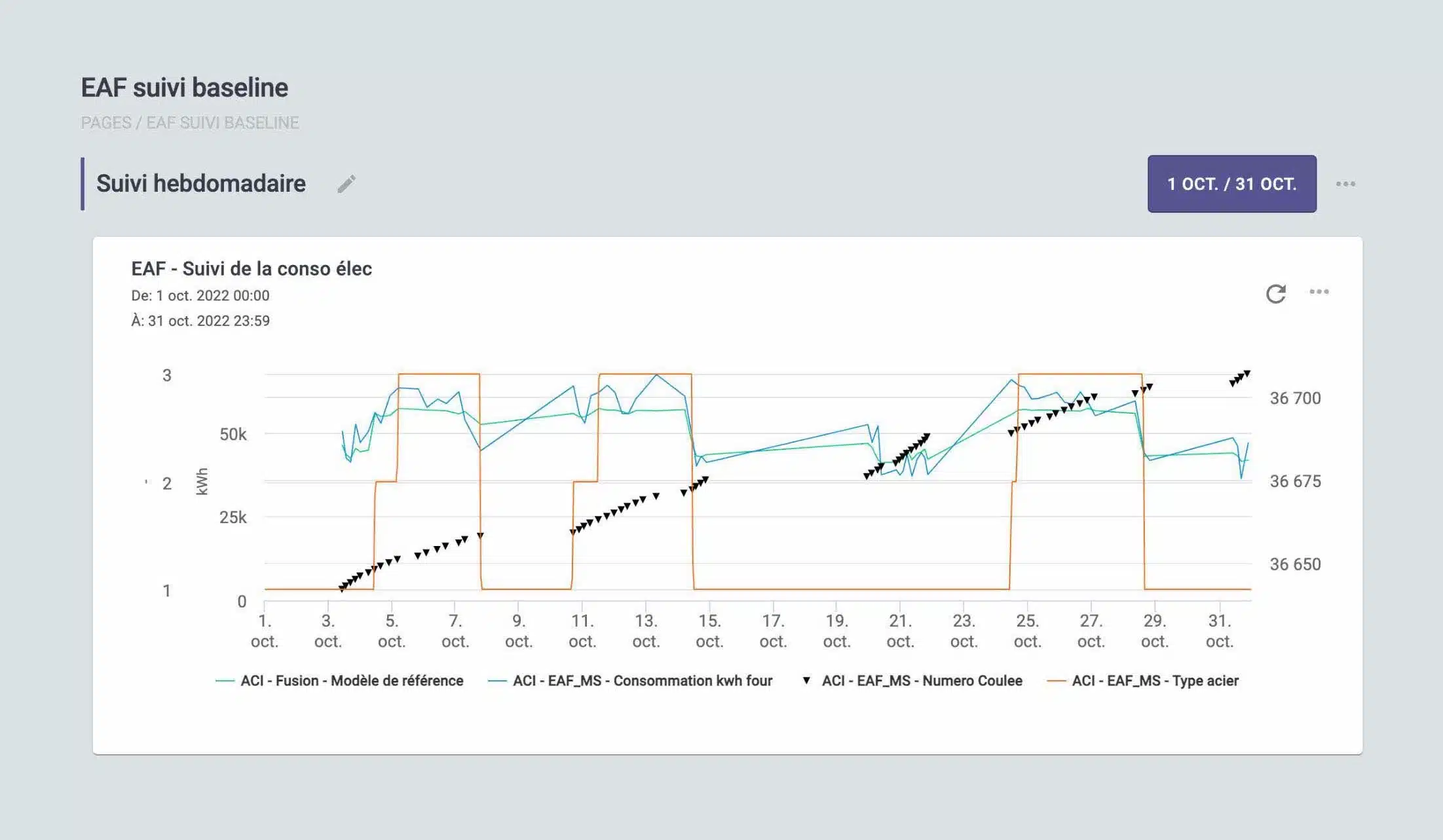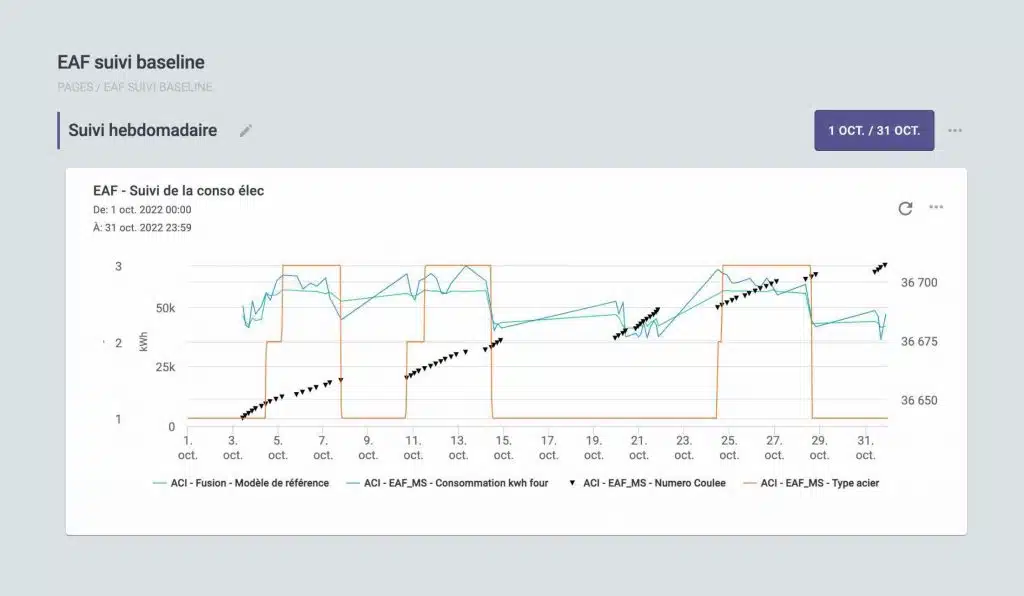 Data modeling also allows the deployment of these models in real time to detect deviations between the model and the real situation. This allows those responsible to be alerted to "real" drifts taking into account a complex and changing environment, not only for isolated consumption peaks. Such models allow for the identification of abnormal heat losses, such as from a furnace due to refractory damage.
These models allow you to identify and analyze energy losses by exploring your data.
How Was ArcelorMittal Able to Make Energy Savings?
ArcelorMittal is the largest steel company in the world, and its subsidiary Industeel operates 7 production sites in France, 3 of which are among the 50 most energy-intensive sites in the country. As of 2018, ArcelorMittal did not have an energy management or metering system and did not have ISO 50 001 certification.
ArcelorMittal was able to implement an ISO 50001 type management system to achieve the following results:
Access to energy metering data (real time) and production data (automated extractions from their software),
Access to external data from weather, GRTGaz, and RTE,
Real-time reporting and monitoring of key performance indicators (KPIs),
A detailed analysis of the energy performance,
Identification of drifts thanks to the implementation of an energy consumption model linked to numerous influencing variables,
A 5.5% reduction in energy costs.
Do you want to know more about how ArcelorMittal achieved significant savings? Watch the webinar where Frédéric Geffray, Arcelormittal's Energy and Maintenance Development Manager, shared his experience with us.
Would you like to be supported in the decarbonization of your organization in the steel industry?