For any manufacturer engaged in digital transition, the digitalization of energy is an issue of key importance. But what does this area cover? What role does the conversion of physical data into actionable digital prompts play in the move towards greater energy efficiency?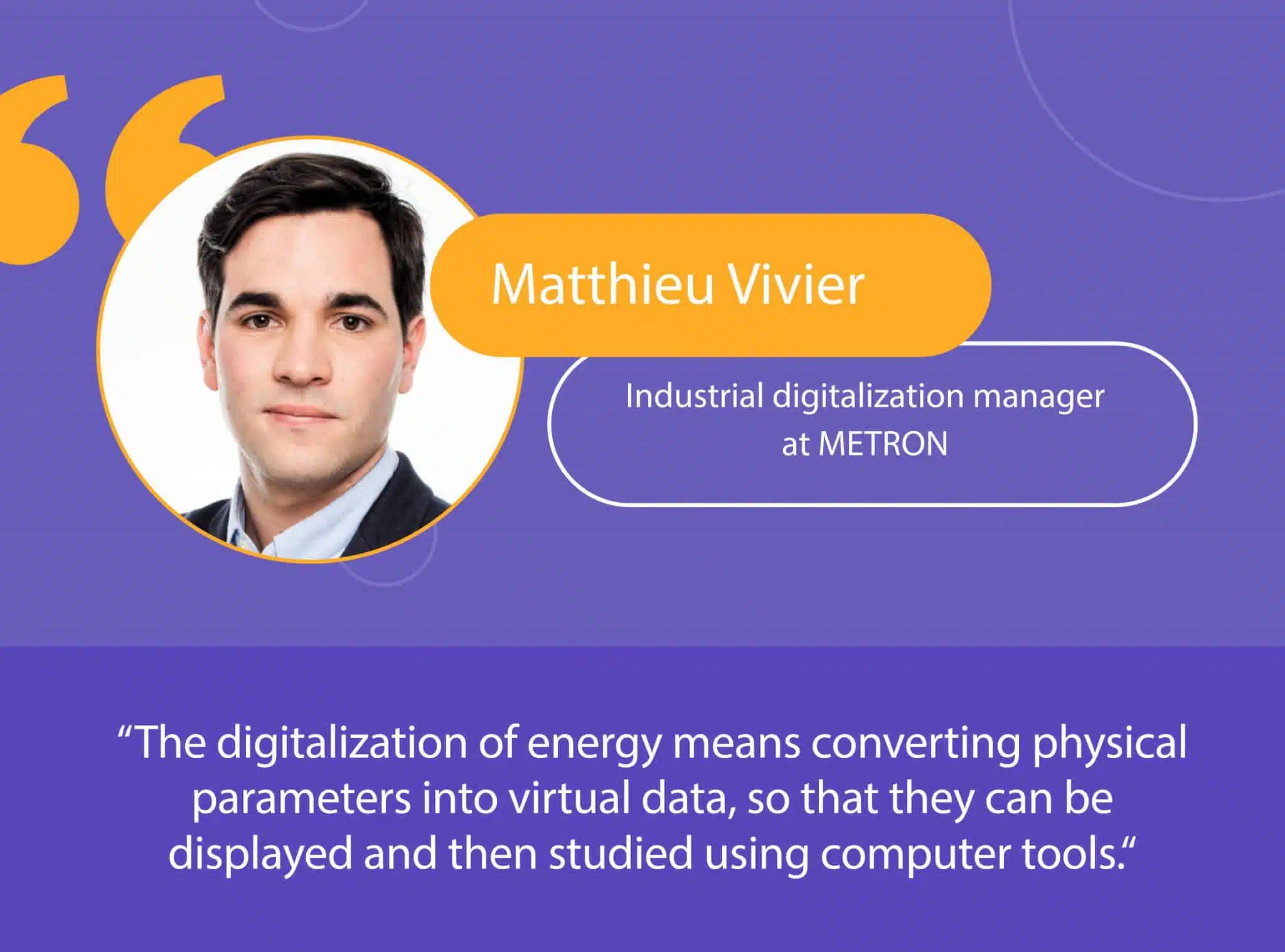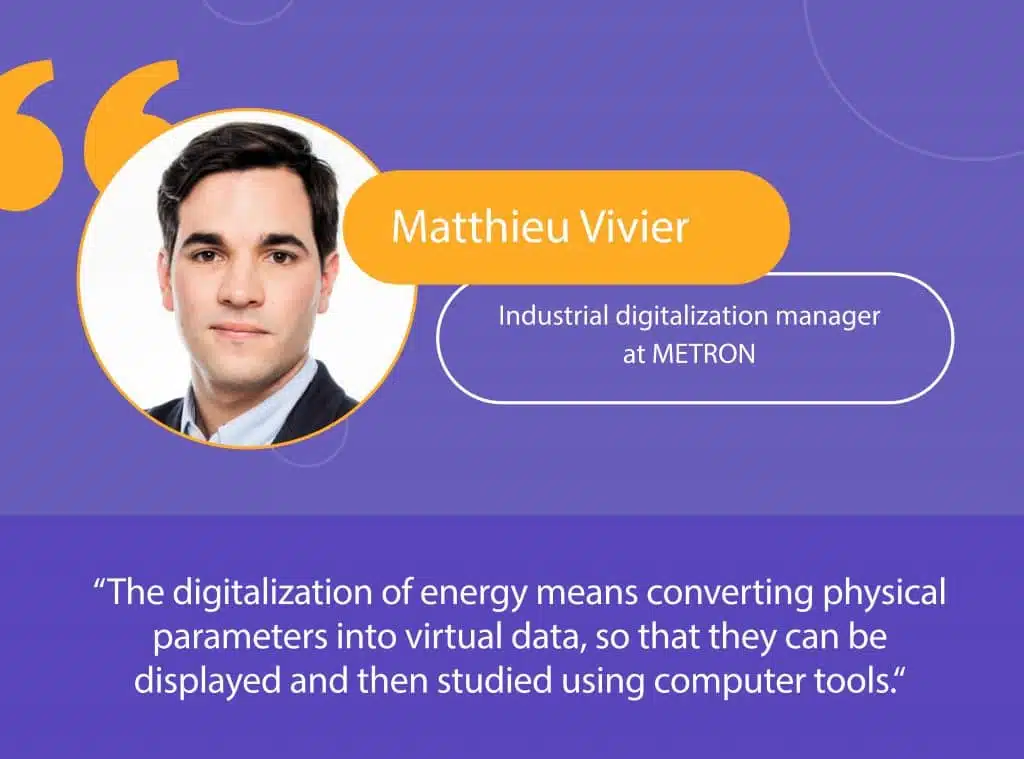 Matthieu Vivier heads METRON's international digitalization team. He talks to us about the role of energy digitalization in the industrial sector, its scope, and its challenges.
How would you define the digitalization of energy in the industrial sector?
In its most widely-understood sense, digitalization is the conversion of a physical parameter into virtual data that can be processed on a computer. 
For industrial sites, energy digitalization therefore means:
Securely collecting physical energy data (temperature, pressure, speed, dimensions and product constraints, etc.); not only from industrial facilities, but also via external data sources (energy prices, weather information, etc.).
Converting physical readings into virtual data that can be processed on a local network, a computer or a machine.
Supplying data for analysis, both by energy engineers and by experts in data science.
Digitalization is the first key milestone in the implementation of a digital energy management system.
Why is energy digitalization important to the industrial sector?
Unlike banking or medical systems, the industrial sector was relatively slow to embrace digitalization, for two key reasons: 
in the 1980s, energy was cheaper;
the great complexity of the (often unique) industrial processes involved, and the technical constraints for data collection and storage hampered its uptake. 
With the advent of the cloud, which has enabled the creation of services such as machine learning and data science, the digitalization of energy for industries has become a truly meaningful concept: manufacturers are now able to exploit energy data. These manufacturers have understood the need to use powerful tools to monitor energy. They quickly attained maturity by installing sensors and control screens to harvest a multitude of physical indicators and enable their energy to be analyzed by more complex systems, such as clouds. 
Furthermore, the energy transition has become a reality – and even a priority – for manufacturers, who are seeking solutions to decarbonize their emissions and reduce their energy costs. They can now choose to consume less, or to consume better, and at the right time, using analyses of energy data and arbitration of deregulated energy markets (for example, in Latin America, but also increasingly in Europe). 
This contributes not only to energy efficiency but also to industrial performance, via more efficient consumption of raw materials, high quality standards, and reductions in losses and rejects.
Security and interoperability: what digitalization challenges do manufacturers face?
The digitalization strategy must be devised with energy in mind. A digitalization provider needs to have in-depth knowledge of the background so that it can choose the right data and information with added value, conduct analyses, and obtain the best energy performance, while making sure not to report unnecessary data.
One major asset is an agnostic digital solution that is able to collect data regardless of the equipment involved, its manufacturers, or the processes in which it is used. This great flexibility makes it possible to search for data within any scope, correlate it during the analysis phase and derive added value from it.
This brings a direct benefit to manufacturers: insights, real-time monitoring, alerts to enable prompt reactions and minimize the impacts of discrepancies, simulation tools to anticipate the site's optimized energy requirements, etc. Problems are quickly identified and fast action is possible, with a clear difference observed at the end of the year.
Providing security for this data
Some well-known practices, such as industrial espionage, are forcing sites to comply with the highest data security standards. The danger exists at two levels: storage (the location from which the data is accessible) and transmission (when the data leaves the site or enters the cloud). To ensure that there is no risk from the customer perspective, checks are made to ensure that solutions comply with the security policies for each industrial site or group, and are compatible with the market's most common and powerful standards, such as those produced by AWS, Azure, and OVH.
These methods vary from one industrial group to another. To ensure compatibility, a digital solution that is not tied into a particular security method must be chosen. It also has to remain flexible to satisfy a security market, requirements and demand that are constantly changing in response to the quest for improvement.
Exploiting increased computing power
The power and computing ability that clouds can offer are required to run artificial intelligence and data science algorithms. It also enables manufacturers to process a large volume of data in real time and access the energy performance platform from anywhere in the world.
One major advantage of the cloud is that it provides customers with a platform that is updated in real time and therefore offers the most recent features. This process is impossible to replicate with local servers, which are not as powerful as the servers at a data center.
What are the specific characteristics of digitalization at METRON, and how does this work?
Digitalization is the real-time monitoring of energy at customer sites using electronic tools. The goal is to achieve energy efficiency through data analysis.
The digitization team sets up the data collection mechanism at industrial sites and sends the data securely to our cloud. Our primary goal is to enable reliable collection by creating a secure link to the manufacturer's information systems. We are the first link between the data that is collected and the data that will then be analyzed.
The METRON solution can interface with existing systems. For example, it can extract data from an already-implemented EMS or from a PLC on the industrial network.
The result is genuine added value, consolidating the existing system and increasing site maturity by enabling not only the real-time analysis of diverse data sources but also the retroactive analysis of historic data assets.
Data collection: what are the two possible methods?
Obtaining data directly from the customer
METRON teams collect the data from the customer using a virtual or physical machine that operates like an OPC server and contains the drivers needed to communicate with all types of industrial protocols and send the data securely and in real time to the cloud and then to the platform. METRON also provides a service of recovering data directly via cloud-to-cloud links, using standard APIs if they are available for those clouds.
Large industrial groups, which already have a cloud infrastructure, prefer to send data via the cloud-to-cloud connection. In this case, the main challenge is interoperability. The data must be converted into a format that matches the analyses and databases found in the METRON cloud.
The diversity of industrial information systems
Physical information collected at industrial sites is disparate in nature, with data being taken from highly varied systems including:
PLCs,
monitoring mechanisms,
ERP,
EMS,
cloud-to-cloud and data lake links (mass data storage method used by big data),
systems implemented at group or industrial site level.
What are the stages in the involvement of METRON's digitalization team?
To define the technical specifications and the secure network architecture schemas that will enable data collection.
To assist the on-site operational teams in implementing links between internal systems and the METRON cloud.
To ensure that data flows operate correctly, handle disconnections, and update on-site information system security or data transmission protocols.
METRON's strength is its field experts who understand industrial facilities, their processes and equipment, and information systems all over the world.
The team understands how to find quick solutions that create a central location for bringing together data for energy consumption, process parameters, and production data required for each energy analysis.
At industry level, energy digitalization is an essential stage in improving energy performance, as it converts data collected from multiple points of an industrial facility into data with high added value within a modeled virtual system. Once digitalized, the contextualized data makes it possible to establish reference models and highlight areas for performance improvements via the expertise of energy engineers and data scientists.
Want to see how digitalization can help you achieve your sustainability goals?
The Global Performance Manager for Specialized Nutrition at Danone told us how they saved up to 15% on energy by using existing data.
Discover more articles on our EMOS blog