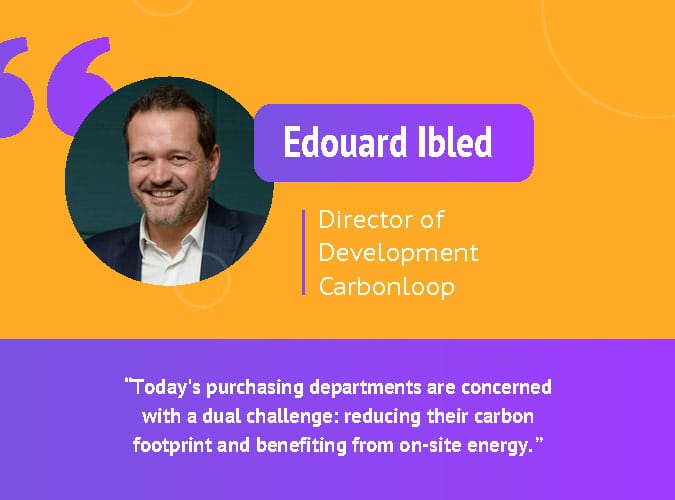 As part of our "Green Tech Interview" series, we met with Édouard Ibled, Director of Development at Carbonloop. To fight against global warming, the company proposes the production of renewable energy on site, applying the philosophy to "think global, act local". Let's take a closer look at their work and the role of digital technology in their activity.
Can you tell us about Carbonloop and its role in the fight against climate change?
The start-up is developed by Kouros Investment, an investment fund that specializes in disruptive innovations, to decarbonize power generation, heavy mobility, and develop new cleaner energy.
Carbonloop is developing a decarbonization service for industry based on the local production of carbon-neutral electricity and heat, or green hydrogen from biomass recovered from surrounding forests and farms.
More concretely, we use thermolysis (or pyrolysis) to produce a carbon-neutral synthesis gas from biomass. This gas is purified to produce green hydrogen that will directly power factories. It can equally be used to power a boiler room or cogeneration plant, and produce carbon-neutral electricity and heat.
This process is accompanied by the production of biochar, which sequesters 49% of the carbon in the transformed biomass. This biochar, considered by the IPCC as a carbon sink, is then used by the agricultural sector - cooperatives, horticulturists, etc. - within a radius of 50 to 100 km of the industrial site, where the biomass was produced and sourced.
The idea is to allow industrial sites to favour short circuits.
How do you assess the maturity of industrial players to meet the climate challenges?
We are witnessing a growing awareness of climate change among many companies and groups. More and more organizations are committed to voluntarily reducing their carbon footprint. We are seeing the development of dedicated functions with sustainable development or CSR departments. Industrial departments are also getting to grips with the subject.
There was also a before and after to February 24, 2022, the date of the beginning of the conflict in Ukraine. While manufacturers were already seeing a sharp increase in energy prices, purchasing departments are now even more concerned about the dual challenge of reducing their carbon footprint and having energy available on site. With the uncertainty of natural gas supply, companies are very interested in our solution.
Finally, what does Carbonloop actually do for industry?
Our solution enables manufacturers to accelerate their decarbonization by providing local carbon-neutral energy. And this goes even further than simple carbon neutrality, since the use of biochar in the agricultural sector ensures carbon sequestration.
What is the role of digital and data in this greening of the economy?
It is really useful: when we start a discussion with a group, we need to identify their consumption, to know the energy usage ranges, to understand how the site works... We need to have key data, which are going to be decisive because they are part of the global strategy.
We offer a service to produce renewable or carbon-neutral energy locally, but we need to understand the need, which necessarily involves data.
Personally, how do you see the energy transition evolving in the years to come?
We heard a lot about the world of tomorrow during the health crisis and the first confinement. This resulted in a change in the way in which companies are organized, but with the start of the conflict in Ukraine, the world of tomorrow has to be built and rethought. We must reduce our need for natural gas, work to reduce our carbon footprint, and consume more rationally as individuals.
We must be fully aware that everyone must do everything to be more vigilant (fuel, water...), and train the next generations.
I am rather optimistic. We are in a phenomenon of acceleration of things, especially in terms of resilience, alongside a violent phenomenon of fluctuating energy prices, a war that we never imagined... This has forced us to be resilient and to adapt more quickly.
Thank you to Édouard Ibled for answering our questions and sharing his expertise on this subject. A new and fascinating point of view, which joins Antoine Hamon's, and underlines once again the importance of turning to green energy.