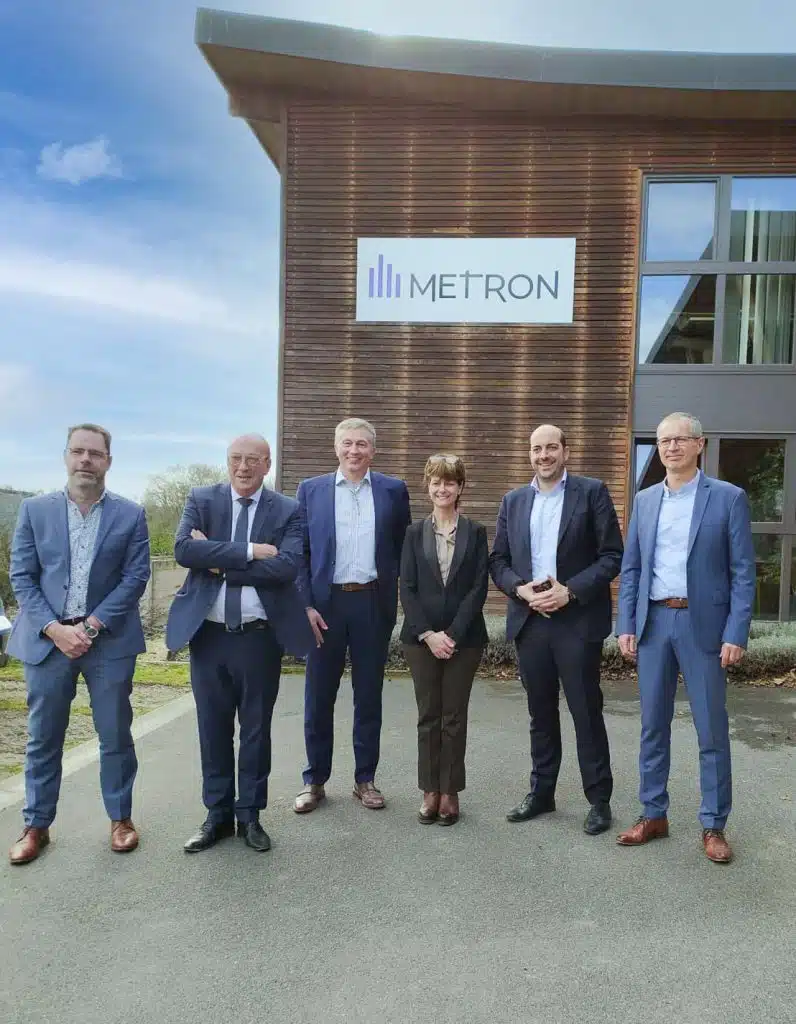 This Monday, March 13th, DAPESCO, Walloon energy management operator and subsidiary of the METRON group, received, Mathieu MICHEL(Secretary of State for Digitalization, in charge of Administrative Simplification, Protection of Privacy and Building Control) Valérie DE BUE (Walloon Minister of Public Administration, Tourism, Heritage and Road Safety), and Jean-Paul WAHL (Deputy-Senator).
This Monday, March 13th, Mr. Mathieu MICHEL, Secretary of State for Digitization, in charge of Administrative Simplification, Protection of Privacy and the Buildings Agency, assistant to the Prime Minister, Mrs. Valérie DE BUE, Walloon Minister of Public Service, Tourism, Heritage and Road Safety, and Mr. Jean-Paul WAHL, Deputy-Senator, visited the premises of DAPESCO in Louvain-la-Neuve for a visit on the theme of the fight against energy waste. 
This visit was an opportunity for DAPESCO to present a pilot project of energy management aiming at professionalizing the energy management of the local authorities of the Walloon Brabant. Indeed, the deployment of an energy management platform would allow for better coordination of the different ranks (convention of the mayors, intermunicipal...) in a regulatory framework in full transformation (Climate Plan, PEB...), and facing a significant increase of the energy prices. In 2021, the expenses of water, gas, and electricity represented nearly 70 million euros for local authorities!
A strategic activity in the context of a major European energy crisis
Faced with a major and unprecedented energy crisis, it is becoming crucial for Europe to undertake a profound energy transition of its buildings and sites. This can be achieved by implementing effective measurement and optimization tools, in order to be able to determine the actions that need to be taken to fight against energy waste and decarbonize the activities of local authorities in real time. 
Indeed, the federal air-climate-energy plan requires those in charge of  public buildings to study, during any intervention on a building, all measures allowing to increase the energy performance of the building, and to establish a targeted renovation strategy based on this plan in order to reduce the total energy consumption.
Thus, the solution developed by DAPESCO allows for the integration of the data of all buildings within an "energy cadastre" and the integration of the invoices and consumption information through automated control. This tool to support the management of public energy policies also allows local authorities to work at the same time on technical, organizational, financial, and environmental aspects of energy.  Accessible on all devices (computer, tablet, smartphone), it also includes powerful decision support and communication tools.
Tanguy DETROZ, CEO of DAPESCO: "We are proud to receive Mr. Michel, Mrs. De Bue, and Mr. Wahl in our premises, and to present them our pilot project for Walloon Brabant, which required a collective research effort in various sectors - energy, environmental, financial, and organizational. In this period of energy crisis, and in line with our action for the decarbonization of public buildings, we hope that our energy management solution can help local authorities in our territory to optimize their consumption by implementing efficient, real time energy management."
Founded in 2002 in Belgium DAPESCO is a company specialized in supporting large organizations and multi-site actors on all issues of energy management. In 2021, DAPESCO joined METRON, a French company specialized in energy digitalization, to combine their expertise and to deploy on the international market (presence in 20 countries worldwide), by developing a global and unique digital solution for energy management and optimization, which can address all energy consuming sectors: industry, tertiary sector, public authorities, both at the global corporate level as well as in sites and subsidiaries. Thanks to a single digital environment, all these players can now monitor and optimize all their energy and carbon footprint data, from aggregate and comparative multi-site visualization to in-depth analysis and real-time optimization of the most energy-intensive assets. As a result, users can get an end-to-end answer for decarbonizing their operations.
METRON is a French cleantech whose raison d'être is to digitalize energy to decarbonize territories. The software solution developed by METRON allows companies in all sectors to analyze and optimize their energy consumption in real time and reduce their carbon footprint. Founded in 2013 in Paris, METRON has 150 employees worldwide. Key players in the energy sector have recognized METRON as a global game changer: ranked in the "Global Cleantech 100" in 2022 (San Francisco) and French Tech Green20 in 2021 and 2022, and awarded by BloombergNEF (New York) in 2019, among others. METRON's solution is also certified "Solar Impulse Efficient Solution" for the world. At the end of 2022, METRON launched the "Decarb Fast Track" program, a European industrial decarbonization program designed to facilitate access by industrial groups to energy management tools and aim to save up to 100,000 tons of CO2.
To find out more: metron.energy